Roopa Rani
CEO

A Commerce graduate, having been associated with digital media - design & print, and account management of Kedige India since 2007, Roopa has been well versed in the financial planning and client servicing along with print management of creative works. She also doing honorary social service in Chinmaya Mission Trust, Mangaluru since 10 years.
---
Vasanth Kedige
Media Consultant & Adviser

With almost four decades of creative design experience in the leading ad agencies of coastal Karnataka, with 10 years at Manipal Advertising, Manipal as Visualizer & Creative designer, 9 years in Shathabdi Graphics Udupi, 6 years at Magnum Advertising a National Ad Agency, Mangalore as head of web division, 8 years at Sahyadri College of Engineering & Management, Mangalore as Media Consultant, heading their in - house design studio. Vasanth has honed his advertising skills trough challenging projects of various leading clients, during his creative journey. Well-versed in all aspects of print media and digital Marketing, Vasanth has in-depth with large format layout, brochures and ad campaigns. No matter what the task, Vasanth continually pursues, innovates his craft by constantly looking for challenging avenues in media consultancy, advise and creative communications.
---
Jay Rao
Creative Director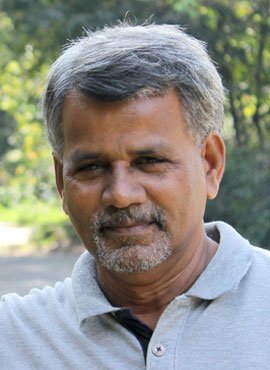 With more than 25 years of advertising experience, Jay has become an expert in all facets of the industry. After graduating in Science and acquiring additional qualifications in Management and Literature, Jay ventured in to advertising after a brief stint in banking. Being a creative writer, he started his own ad agency " Cross Road Media " through which, he handled many portfolios, which include some of the effective ad campaigns for leading retail stores, which are carried on even today. An expert in media planning, branding & communications, he later joined " Svasthi Communications" a total media solutions company as a creative director, leading a team of expert graphic designers, photographers and copy writers. He has been instrumental in planning and executing branding & Identity development programs for many corporate companies and academic institutions. He has produced many ad films, Institutional films and short films under the banner of Svasthi. Presently he is a freelance media consultant and is engaged in the project work of farming and setting up a holistic, yoga retreat project at Agumbe, a hill station in the western ghats, in Karnataka.
---
Varun Kedige
Visualizer & Photographer

A talented artist and graduate of Fine Arts from CAVA, Mysore, Varun has been experimenting with computer design skills along with his natural talent for fine arts and depth in free hand designs. Adept in photography, computer aided designing, Adobe Illustrator, Photoshop & Coral Draw and movie making; Varun brings in lots of freshness in to digital media, creative design concepts and photography.
---